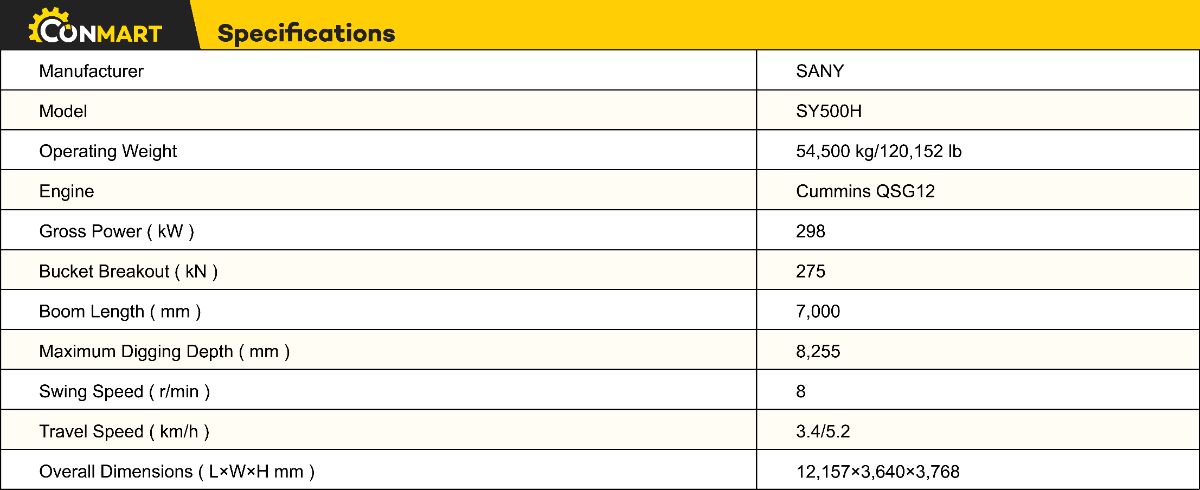 SANY's most powerful large excavator, the SY500H is a powerhouse, boasting 400 HP and a digging depth of over 27 feet. A durable Cummins diesel engine delivers the performance you need for any job, while the selectable working modes allow you to match performance to the job application to balance power and efficiency. Positive flow hydraulics further improve operating efficiency, while fuel-efficient design features can save up to 10% on fuel costs. Tackle any job with ease behind the controls of the SY500H large excavator.
Highlights of SANY SY500H
+Powerful, robust and reliable powertrain & hydraulic components for long life in the most demanding applications
+Optimized positive flow hydraulics improve operating efficiency by up to 5% and fuel efficiency by up to 10%
+A high-performance cooling system equipped with electronic control fan clutch provides clean, quiet operation
+Selectable working modes match machine performance to the application, maximizing productivity and minimizing operating costs
About SANY
SANY Heavy Industries started in 1989 as a small welding supply company founded by four men who wanted to offer better products to the world. Over the last three decades, SANY has grown and evolved, and today stands as an $8 billion heavy equipment manufacturer with a presence in countries around the world, including global R&D and manufacturing facilities in India, Brazil, Germany and the newest $60 million U.S. facility on 272 acres in Peachtree City, Georgia.